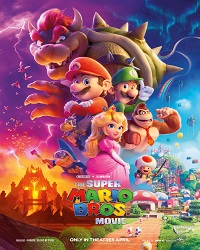 The Super Mario Bros. Movie
When
Occurs on Thursday September 28 2023
Approximate running time: 2 hours
Venue
Event Notes
×
Algonquin Theatre presents...
A.T Movie Nights!
Join us
September 28th at 7:00pm
for a viewing of
The Super Mario Bros. Movie
right here on the big screen!
Tickets are $15+tax for adults, $10 +tax for youth 18 and under!
For more information and upcoming events, please visit
the Algonquin Theatre Website
ALL SALES ARE FINAL.
Tickets will not be taken back for exchange or refund. Before purchasing tickets, carefully review your event and seat selection. Policies set forth by our clients, including venues and artists, generally prohibit the Algonquin Theatre from issuing exchanges or refunds after a ticket has been purchased or for lost, stolen, missed shows, and damaged or destroyed tickets. In addition, we may occasionally offer tickets at a discount after the original on sale date and will not refund the difference between the original price and the sale price. Tickets will not be refunded for any reason including missed shows or inclement weather.