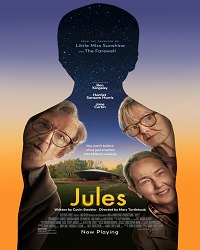 Jules
When
Occurs on Monday December 18 2023
Approximate running time: 2 hours
Venue
Event Notes
×
December 18, 2023 - Jules
Presented by Reel Alternatives in partnership with the Algonquin Theatre
Jules follows Milton (Ben Kingsley) who lives a quiet life of routine in a small western Pennsylvania town, but finds his day upended when a UFO and its extra-terrestrial passenger crash land in his backyard. Before long, Milton develops a close relationship with the extra-terrestrial he calls "Jules." Things become complicated when two neighbors (Harriet Sansom Harris and Jane Curtin) discover Jules and the government quickly closes in. What follows is a funny, wildly inventive ride as the three neighbors find meaning and connection later in life - thanks to this unlikely stranger. Ben Kingsley's quietly powerful performance drives this slight yet affecting crowd-pleaser from director Marc Turtletaub that puts a lighthearted science-fiction twist on its exploration of aging, mortality, regret, and loneliness. The film effectively blends quirky humor with an underlying message about appreciating our seniors into a silly yet warm-hearted package. A modern day E.T. with a feel good story, just right for the Christmas season.
USA 2023
Director: Marc Turtletaub
Principal cast: Ben Kingsley, Harriet Sansom Harris, Jane Curtin
Language: English
Runtime: 1h 27m
Please redeem completed Reel Appreciation Card on show night at the box office between 6-6:45pm.
Reel Alternatives Huntsville is a not-for-profit organization, committed to presenting quality Canadian and international film to enrich the cultural experience of the community.
Reel Alternatives Huntsville gratefully acknowledges our partnership with Film Circuit, presented by TIFF, and its sponsors and supporters. For more information about Film Circuit and to view a full list of their sponsors and supporters, please visit tiff.net/filmcircuit.
ALL SALES ARE FINAL.
Tickets will not be taken back for exchange or refund. Before purchasing tickets, carefully review your event and seat selection. Policies set forth by our clients, including venues and artists, generally prohibit the Algonquin Theatre from issuing exchanges or refunds after a ticket has been purchased or for lost, stolen, missed shows, and damaged or destroyed tickets. In addition, we may occasionally offer tickets at a discount after the original on sale date and will not refund the difference between the original price and the sale price.