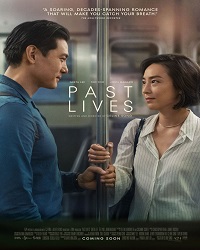 Past Lives
When
Occurs on Monday November 20 2023
Approximate running time: 2 hours
Venue
Event Notes
×
November 20, 2023 - Past Lives
Presented by Reel Alternatives in partnership with the Algonquin Theatre
Two deeply connected childhood friends, Nora and Hae Sung, fatefully reunite in New York City after being wrested apart 20 years ago, in this decades-spanning romance from writer-director Celine Song. The story begins in South Korea, where 12-year-old Nora is preparing to emigrate with her family to Canada. But she is leaving someone dear behind: Hae Sung, her closest friend. Twelve years later, Nora (Greta Lee) has relocated from Toronto to New York to pursue her dreams of being a playwright.
Eventually, with the help of the internet, Nora finds Hae Sung and rekindles their friendship over Skype. But with 6,000 miles persistently separating them, they lose their connection again, as they once did as children. More time passes, and the two friends — now in their 30s — reunite in person in New York. By this time, Nora is married to a writer named Arthur (John Magaro) and Hae Sung is newly out of a long-term relationship. Nora shows Hae Sung the city as they elegantly dance around their past and the fated nature of their relationship.
The ties between two people over the course of their lives is expressed beautifully and succinctly in a single Korean word: in-yeon. Past Lives is a delicately layered triptych that confronts destiny, love, and the choices that shape a life. Song's graceful romance is about the acceptance of loss that becomes a defining part of adulthood. "It's a beautiful, transporting film but one made with both feet firmly on the ground." -The Guardian
USA, 2022
Writer/Director: Celine Song
Principal Cast: Greta Lee, Teo Yoo, John Magaro English, Korean
Language: English, Korean (some subtitles)
106 minutes
Please redeem completed Reel Appreciation Card on show night at the box office between 6-6:45pm.
Reel Alternatives Huntsville is a not-for-profit organization, committed to presenting quality Canadian and international film to enrich the cultural experience of the community.
Reel Alternatives Huntsville gratefully acknowledges our partnership with Film Circuit, presented by TIFF, and its sponsors and supporters. For more information about Film Circuit and to view a full list of their sponsors and supporters, please visit tiff.net/filmcircuit.
ALL SALES ARE FINAL.
Tickets will not be taken back for exchange or refund. Before purchasing tickets, carefully review your event and seat selection. Policies set forth by our clients, including venues and artists, generally prohibit the Algonquin Theatre from issuing exchanges or refunds after a ticket has been purchased or for lost, stolen, missed shows, and damaged or destroyed tickets. In addition, we may occasionally offer tickets at a discount after the original on sale date and will not refund the difference between the original price and the sale price.