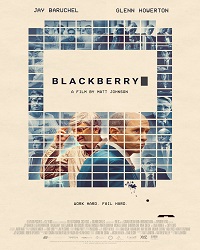 BlackBerry
When
Occurs on Monday October 16 2023
Approximate running time: 2 hours
Venue
Event Notes
×
October 16, 2023 - BlackBerry
Presented by Reel Alternatives in partnership with the Algonquin Theatre
The latest from Canadian writer-director Matt Johnson tells the story of the meteoric rise and catastrophic demise of the world's first smartphone.
In the late '90s, Research In Motion was just a humble tech outfit selling modems in Waterloo, Ontario. Best friends and co-founders Mike Lazaridis (Jay Baruchel) — a soft-spoken tech whiz who's the brains of the operation — and Douglas Fregin (Matt Johnson) — a headband-donning, nerve-grating goof — are trying to sell a product they call PocketLink, a never-before-seen combination of cellphone, email device, and pager. The telecom world isn't impressed with Mike and Doug's invention, but a domineering, foul-mouthed salesman named Jim Balsillie (Glenn Howerton) is. Jim sees the device's potential and brokers a deal to acquire part of RIM in exchange for cash and business expertise.
What follows is the gut-wrenching and side-splitting story of the meteoric rise and catastrophic fall of the world's first handheld computer. BlackBerry is a Canadian story told with tremendous national pride by Canadian talent. The three visionaries at the centre of this tale, despite their device's ultimate descent into obsolescence, changed the way the world communicates today.
Content Advisory: Strong language
Please redeem completed Reel Appreciation Card on show night at the box office between 6-6:45pm.
Reel Alternatives Huntsville is a not-for-profit organization, committed to presenting quality Canadian and international film to enrich the cultural experience of the community.
Reel Alternatives Huntsville gratefully acknowledges our partnership with Film Circuit, presented by TIFF, and its sponsors and supporters. For more information about Film Circuit and to view a full list of their sponsors and supporters, please visit tiff.net/filmcircuit.
ALL SALES ARE FINAL.
Tickets will not be taken back for exchange or refund. Before purchasing tickets, carefully review your event and seat selection. Policies set forth by our clients, including venues and artists, generally prohibit the Algonquin Theatre from issuing exchanges or refunds after a ticket has been purchased or for lost, stolen, missed shows, and damaged or destroyed tickets. In addition, we may occasionally offer tickets at a discount after the original on sale date and will not refund the difference between the original price and the sale price.