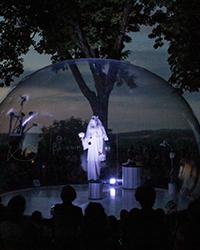 La bulle - CORPUS
When
Runs from Friday September 1 2023 to Sunday September 3 2023
Approximate running time: 2 hours
Venue
Event Notes
×
Tickets on sale May 4th at 10am. Advance access for HfA Members starting April 12th. Members purchase online or by calling 705-789-4975.
SPONSORED BY CANADIAN HERITAGE
La Bulle is the new show from CORPUS, designed for any public space and for all ages. It features a one-of-a-kind bubble tent (a character in its own right) and its confined inhabitant: Pierrot, the iconic loner and dreamer. Together, they live in transparent symbiosis. In this theatrical setting, there is nowhere to hide: an absurd situation, fully exploited by a lucid and lunar Pierrot. Through mime, dance, text, even drawing, he tries to connect with his audience. Dressed in the archetypal black and white costume and make-up, he manages to create bonds, alas all ephemeral, with those who are willing to give him a little time. Poetry and humor are always at his side, true to CORPUS' vocation.
All sales are final. Tickets will not be taken back for exchange or refund. Before purchasing tickets, carefully review your event and seat selection. Policies set forth by our clients, including venues and artists, generally prohibit the Algonquin Theatre from issuing exchanges or refunds after a ticket has been purchased or for lost, stolen, damaged or destroyed tickets. In addition, we may occasionally offer tickets at a discount after the original on sale date and will not refund the difference between the original price and the sale price.