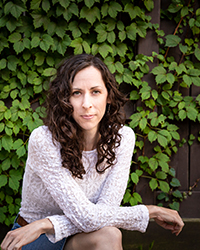 Hannah Shira Naiman
When
Occurs on Sunday July 30 2023
Approximate running time: 2 hours
Venue
Event Notes
×
Tickets on sale May 4th at 10am. Advance access for HfA Members starting April 12th. Members purchase online or by calling 705-789-4975.
SPONSORED BY HUNTSVILLE DOPLLER
Named Traditional Singer of the Year at the Canadian Folk Music Awards for her album "Know The Mountain" (2017), Huntsville's Hannah Shira Naiman combines her powerful songwriting and impressive musicianship to deliver exciting contemporary versions of traditional music she was raised on. This fall, Hannah released her long-awaited third full length album, "Wheels Won't Go;" featuring songs inspired by her move from Toronto to Northern Ontario, the COVID pandemic, and her experience of new motherhood. Whether performing in concert, penning a murder ballad, or calling a square dance, Hannah Shira Naiman is uniquely positioned to make a lasting mark on the Canadian music landscape.
All sales are final. Tickets will not be taken back for exchange or refund. Before purchasing tickets, carefully review your event and seat selection. Policies set forth by our clients, including venues and artists, generally prohibit the Algonquin Theatre from issuing exchanges or refunds after a ticket has been purchased or for lost, stolen, damaged or destroyed tickets. In addition, we may occasionally offer tickets at a discount after the original on sale date and will not refund the difference between the original price and the sale price.