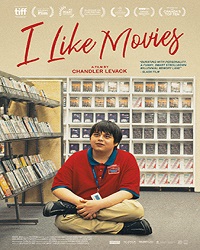 I Like Movies
When
Occurs on Monday April 17 2023
Approximate running time: 2 hours
Venue
Event Notes
×
I Like Movies Opening with an easy contender for most hilariously (intentionally) inept parody of A Christmas Carol ever made, Chandler Levack's ultra-indie I Like Movies is a smart, funny, and ornery exploration of adolescent trauma and early onset cinephilia.
Socially awkward 17-year-old Lawrence Kweller, played by Isaiah Lehtinen, is self-absorbed and movie-obsessed. Fully convinced he can earn $90,000 to achieve his dream of attending film school at NYU, he gets a part-time job at Sequels video store. There older store manager, Alana, played by Romina D'Ugo, takes him under her wing. Meanwhile Lawrence sabotages every high school relationship he has with his narcissistic film snobbery. Faced with the impending reality of university life, Lawrence must change his ways.
Levack and her collaborators have created a touching and very recognizable world driven by empathy. As infuriating as Lawrence can be, the film sticks with him as he bounces from one small but impactful disaster to the next. We find ourselves rooting for him — not to realize his fantasies, but to engage with his reality. I Like Movies is also blessed with an excellent cast, led by Lehtinen and Hynes White and ably supported by Romina D'Ugo as Lawrence's Sequels boss, and the ever-versatile Krista Bridges as Lawrence's resilient mother. Content advisory: themes of suicide, sexual abuse, and mental distress.
Special Pricing Alert! Students of Huntsville High School are invited to join us for this event at a reduced price! For online purchases with a credit card, select the "Youth" pricing and at checkout and input code "HHS2023" when viwing your cart. You will receive a discount for your tickets! Students are also welcome to purchase tickets at the Summit Centre Customer Service Desk Mon-Fri 8:30-4:30pm, or call our Box Office at 705-789-4975.
All sales are final. Tickets will not be taken back for exchange or refund. Before purchasing tickets, carefully review your event and seat selection. Policies set forth by our clients, including venues and artists, generally prohibit the Algonquin Theatre from issuing exchanges or refunds after a ticket has been purchased or for lost, stolen, damaged or destroyed tickets. In addition, we may occasionally offer tickets at a discount after the original on sale date and will not refund the difference between the original price and the sale price.