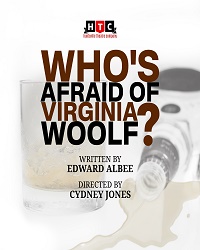 Who's Afraid of Virginia Woolf?
When
Runs from Thursday February 23 2023 to Saturday February 25 2023
Approximate running time: 2 hours
Venue
Event Notes
×
The multi-award-winning "Who's Afraid of Virginia Woolf?" is a four character, three Act, Black Comedy/Drama set in 1962. It examines the complexities of the marriage of a middle-aged couple, George and Martha, when, late one evening, after a university faculty party, they receive an unwitting younger couple, Nick and Honey, as guests, and draw them into their bitter and frustrated relationship.
Warning: Adult and Sensitive Content. This performance is 3 hours in legnth and has 2 Intermissions