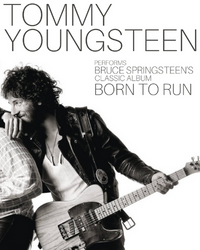 Tommy Youngsteen- Bruce Springsteen's *Born to Run*
When
Occurs on Saturday February 18 2023
Approximate running time: 2 hours
Venue
Event Notes
×
Tommy Youngsteen- Bruce Springsteen's "Born to Run"
For the first time in Huntsville Tommy Youngsteen brings you Bruce Springsteen's career defining 1975 classic album "Born to Run" along with all his greatest hits. The full album, performed cover to cover by an All-Star 10 piece band.
Tommy Youngsteen is a premier North American Classic Rock tribute act featuring members & alumni from Juno winning acts: The Arkells, Sam Roberts Band, Stars, The Trews, July Talk & Serena Ryder Band. Over the last ten years its members have logged well over 5000 shows with their respective groups, from Canada all the way to Japan, and have shared the bill and opened for artists such as Paul Mccartney, The Eagles, Aerosmith, The Rolling Stones, AC/DC & Coldplay, just to name a few. As well as made appearances on Late Night with David Letterman, The Tonight Show with Jay Leno, The Conan O'Brien Show & Late Night with Jimmy Fallon.
All sales are final. Tickets will not be taken back for exchange or refund. Before purchasing tickets, carefully review your event and seat selection. Policies set forth by our clients, including venues and artists, generally prohibit the Algonquin Theatre from issuing exchanges or refunds after a ticket has been purchased or for lost, stolen, damaged or destroyed tickets. In addition, we may occasionally offer tickets at a discount after the original on sale date and will not refund the difference between the original price and the sale price.