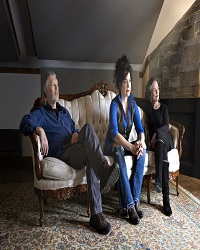 I & I - Christina Hutt with Jeff Bird & Sue Smith
When
Occurs on Friday October 14 2022
Approximate running time: 2 hours
Venue
Event Notes
×
CHRISTINA HUTT with JEFF BIRD & SUE SMITH
Join Christina Hutt in this special intimate performance with multi-instrumentalist and producer Jeff Bird and singer/songwriter and producer, Sue Smith. Expect a musical evening of song and story, led by Christina's inimitable voice, fused with Jeff's deft musicianship and Sue's gorgeous harmonies.
Christina Hutt can fill a room with her rich, resonant, out-of-this era voice and move you with her honest, charismatic delivery. Once described as a full-bodied glass of red wine, her sound is reminiscent of the soul-stirring vocals you would have heard flowing from a transistor radio in the late 50's. You will understand why Hutt has been dubbed "the voice" in her hometown of Muskoka, Ontario. She welcomes you into the secrets of her heart with fierce passion and endearing spirit. Christina's ease in a diversity of genres brings a captivating quality to her performances. The lyrics in her song "Cracks & Crevices" take you deep into the chilling darkness of emotional anguish while her tune "Fifteen Shades" makes you feel like you just might just be at a Patsy Cline Tribute Show.
Jeff Bird is a 40+ year veteran of the Canadian and International music scenes. He is a multi-instrumentalist, composer, arranger and music producer. Jeff is a founding father of the renowned folk group TAMARACK.
With COWBOY JUNKIES, he has spent more than 30 years recording and touring the world. In the fall of 2019, Jeff, with COWBOY JUNKIES, was inducted into the Canadian Music Hall of Fame.
Jeff has realized 17 recordings of solo and collaborative work. His latest is "Felix Anima"; contemporary interpretations of the music of 12th century mystic Hildegard von Bingen performed on the harmonica and other instruments.
As an award-winning experimental film maker, his work has been showcased from Dawson City, Yukon, to Paris, France.
Sue Smith is a singer, songwriter and producer. An elegant performer recognized for her sultry and expressive voice, Sue's discography includes her solo CD, "I'm So" (2006), Ondine Chorus' "Towards a Little Light" (2013), and The Bird Sisters' Flo (1990), "Different Stories" (1993) and "She & She & She" (1994). Her recent film "You Come Calling" won the Mindfield Film Festival Diamond Prize (June 2022).
Sue's latest release, Tonight We Sail (2021), is a marvellous collaboration with The Potion Kings, Jeff Bird, Kevin Breit, Randall Coryell and Howie Southwood, with whom she takes deep dives into the worlds of rock, jazz, blues and more, coming up with a brand new take on nine of her songs plus tunes by Tom Petty and Robbie Roberstson.
Sue Smith is a co-founder of Guelph's legendary Hillside Festival, an original Bird Sister and Co-Artistic Director of the ethereal choral ensemble Ondine Chorus. As Artistic Director of SEASON SINGERS, Sue has written and produced nine original children's musicals. Sue has composed scores for choreographer Karen Kaeja's "Wedding Threads" and "Hangman", and musical settings for Margaret Atwood's hymn texts from Year of the Flood.
www.jeffbird.com www.felixanima.ca www.jeffbird.bandcamp.com www.suemith.ca www.suesmith.bandcamp.com