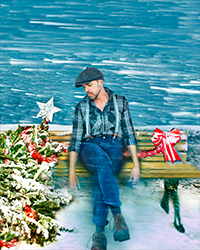 Hawksley Workman: Almost a Full Moon
When
Runs from Friday December 9 2022 to Saturday December 10 2022
Approximate running time: 2 hours
Venue
Event Notes
×
ON SALE JULY 28TH AT 10AM
Join home town hero Hawksley Workman for a special unplugged acoustic performance celebrating Christmas, Community, family and singing. Anintimate and cozy concert in the Trinity United Church's Sanctuary featuring songs from Hawksley's classic Christmas record Almost a Full Moon and other favorites.
Hawksley Workman is a JUNO Award-winning and Gold Record certified singer-songwriter and multi-instrumentalist. Since his ground-breaking self-produced indie debut For Him and The Girls (1999) through to chart-topping singles of 2020, Hawksley has careened between major label international smash hits to Canadiana soaked indie releases. Boasting a catalogue of 17 solo records, Hawksley's genre defying style strings together folk, chart pop and irrepressible cabaret. His show-stopping vocals on songs about weather, love, heartbreak and tales of end-times have garnered him a league of devoted fans.
Performing over a thousand shows worldwide, Hawksley has headlined prestigious venues like Massey Hall and The Olympia in Paris. For a uniquely Canadian artist Hawksley has built loyal fan bases in the UK, France, Norway and Australia launching many successful tours, demystifying and delighting fans while drawing on an enviable catalogue of mischievous favourites, glammy stompers and heartfelt hymns to small town Canada.
Hawksley's latest release, Less Rage More Tears was released October 23, 2020 on his indie label Isadora Records. The single ""Just a Dream"", which reached #1 on the CBC Music Top 20 chart, is a nostalgic feast and a perfect anthem for our collective melancholy.
All sales are final. Tickets will not be taken back for exchange or refund. Before purchasing tickets, carefully review your event and seat selection. Policies set forth by our clients, including venues and artists, generally prohibit the Algonquin Theatre from issuing exchanges or refunds after a ticket has been purchased or for lost, stolen, damaged or destroyed tickets. In addition, we may occasionally offer tickets at a discount after the original on sale date and will not refund the difference between the original price and the sale price.