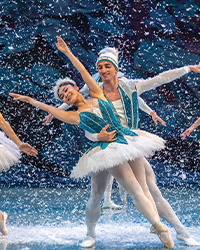 The Nutcracker: a Canadian Tradition
When
Runs from Saturday November 26 2022 to Saturday November 26 2022
Approximate running time: 2 hours
Venue
Event Notes
×
ON SALE JULY 28TH AT 10AM
ADVANCE ACCESS FOR MEMBERS ONLY
MEMBERS PURCHASE BY CALLING 705-789-4975
Holiday magic is made year after year by Ballet Jörgen's traditional treasure The Nutcracker: a Canadian Tradition. Created by acclaimed choreographer and Artistic Director Bengt Jörgen to Tchaikovsky's well-loved score, this delightful classic is a favourite that brings magic to the holidays.
ABOUT THE PERFORMANCE
This is a beautiful Canadian work, and audiences are taken on Klara's familiar, magical dream journey as she arrives in Canada and experiences winter landscapes filled with snowflakes, lumberjacks, Mounties, and creatures of the woods. This celebration of the wonder of the season is based on the popular traditional story The Nutcracker and the King of mice by E.T.A. Hoffman, enjoyed by audiences for years. The ballet's second act is remembered for its celebration of varied dances, and our charming divertissements of raccoons, loons, dragonflies, and bears demonstrate Klara's longing for the summer months as she travels excitedly through her dreams. The iconic, show-stopping pas-de-deux in the final act is lovingly danced by Lord and Lady Birch as they usher Klara safely home at the end of the adventure. Ballet Jörgen's Nutcracker is destined to become a national treasure that will warm the hearts of young and old alike.
All sales are final. Tickets will not be taken back for exchange or refund. Before purchasing tickets, carefully review your event and seat selection. Policies set forth by our clients, including venues and artists, generally prohibit the Algonquin Theatre from issuing exchanges or refunds after a ticket has been purchased or for lost, stolen, damaged or destroyed tickets. In addition, we may occasionally offer tickets at a discount after the original on sale date and will not refund the difference between the original price and the sale price.