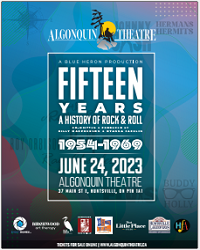 Fifteen Years "a Story of Rock 'n Roll"
When
Occurs on Saturday June 24 2023
Approximate running time: 2 hours
Venue
Event Notes
×
NEW DATE JUNE 24TH, 2023
"XV Years "A Story of Rock 'n Roll" is a rockumentary - an interactive musical journey with a script. Billy MacPherson is a musician and an avid historian. After a serious health challenge confronted him, he began reflecting upon his teenage years during the 1960's. It was from this that his creative effort began to formulate the concept of telling the story of Disc Jockeys, Radio and the wonderful music that constantly reminds him of that exciting part of his life.
" We used to pull over to a phone booth on a Friday night while cruising the streets, put in a dime and phone in to " The White Knight " on CKBB 950 AM to make a song request or a dedication. We grew up listening to DJ's play the music we loved. This is that Story ." It is called: FIFTEEN YEARS ( XV/1954-1969)
All sales are final. Tickets will not be taken back for exchange or refund. Before purchasing tickets, carefully review your event and seat selection. Policies set forth by our clients, including venues and artists, generally prohibit the Algonquin Theatre from issuing exchanges or refunds after a ticket has been purchased or for lost, stolen, damaged or destroyed tickets. In addition, we may occasionally offer tickets at a discount after the original on sale date and will not refund the difference between the original price and the sale price.