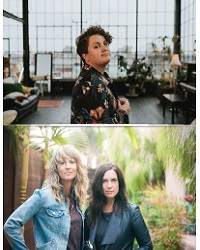 Madison Violet and Kellie Loder
When
Occurs on Wednesday July 6 2022
Approximate running time: 2 hours
Venue
Event Notes
×
Presented by the Muskoka Intimate Concert Series
Portion of the proceeds to be donated to the Rainbow Railroad. Please see the amazing work they do below.
https://www.rainbowrailroad.org/abou
Kellie Loder
There is something truly extraordinary about Juno award nominee, Kellie Loder. It can be found in their poignant and timely lyrics set against magical melodies. It can also be found in the singer/songwriter's electrifying live shows, inspiring profound emotion in listeners. You'll cry, you'll laugh, and you'll tell your friends about it. CBC q's Tom Power proclaims "If I were a betting man, I'd bet the house on Kellie Loder being the next big thing out of Newfoundland".
Loder finished in second place on the brand new season of Canada's Got Talent. Included in their long list of accolades are recent 2022 ECMA nominations for Songwriter of the Year as well as Fan's Choice Entertainer of the Year. They were named the 2021 Ron Hynes Songwriter of the Year at the Music NL Awards this past December and received a 2021 ECMA win for their groundbreaking music video and song "Molded Like A Monster".
MADISON VIOLET
Musicians. Wanderers. Artist
After 20 years together, Juno nominated singer-songwriting duo, Madison Violet, are as much wanderers as they are musicians. It is a career filled with endless roads stretching into the horizon, winding through changing landscapes, each kilometer traveled carrying with it the promise of inspiration. Perhaps that is the secret of what has made Madison Violet such an enduring band. Because with each new town, each new venue, their curiosity grows, their love of music deepens, their desire to push musical boundaries expands.
It is believed that the spark that ignited Madison Violet's irrepressible curiosity came from an unlikely source; while sitting in Brenley's grandmother's kitchen in Cape Breton Island, Nova Scotia, filled to bursting with family, friends, instruments (and maybe even a foe or two), and miles from their adopted home of Toronto, Ontario, two musicians looked at each over the flickering light of the old wood stove and knew that theirs would be an unconventional journey. Inspired by their heritage, emboldened by their vision, Lisa MacIsaac and Brenley MacEachern decided that they would create a sound that would have it's roots in their past while continually exploring new sounds. From the beginning, the multi-instrumentalists have carried authenticity with them like a talisman, writing all of their own music and lyrics, believing that the best way to connect to their audiences was to treat them like old friends sharing a secret and a smile. As vocalists they have an innate ability to break your heart, slyly knowing that their soaring harmonies will mend it, often all in the span of one song.