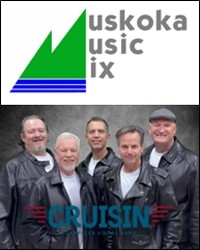 Happy Together!
When
Occurs on Saturday August 20 2022
Approximate running time: 2 hours
Venue
Event Notes
×
The Muskoka Music Mix present their 31st Night of Harmony: "Happy Together!" A Vocal Variety Show with the Muskoka Music Mix chorus and quartets, featuring the amazing stylings of the Cruisin' vocal band!
The human voice is an incredible musical instrument. Vocal group Cruisin' takes the power of the voice to an impressive new level. The five members of Cruisin' bring a wealth of experience to their rich a cappella harmonies. For more than a quarter century, Murray Adams, Dave Beetham, Dale Locke, Scott McCarthy & Rob Vanbuskirk have entertained audiences in Canada and the United States in a variety of successful vocal groups. Cruisin' was initially formed in 2005 as a quartet. Now five singers!
Cruisin' provides audiences with a humorous, enjoyable and wonderfully captivating musical presentation. They give a fresh approach to classic songs that span the range from the golden age of Doo-Wop, Rock & Roll and Gospel right up to the music of the present. Using only five unaccompanied voices, Cruisin' combines humour, audience participation and dynamic harmonies to leave its audience smiling, humming and thoroughly entertained! In 2018. Cruisin' decided to broaden their musical offering by adding some arrangements accompanied by guitars and percussion!
Cruisin' have recorded eight albums over the years, including their latest album, "Take Five". Partial proceeds from their album sales and shows goes to their charity, Campfire Circle for kids with cancer.
So, Ladies and Gentlemen, please welcome our special guests: Cruisin'!