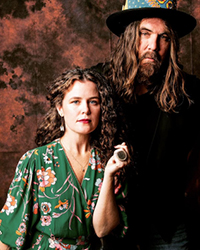 Iskwē | ᐃᐢᑫᐧᐤ & Tom Wilson
When
Occurs on Thursday August 11 2022
Approximate running time: 2 hours
Venue
Event Notes
×
Tickets on sale April 28th at 10am.
Advance access for HfA Members starting April 14th. Members purchase by calling 705-789-4975 Sponsored by Hunters Bay Radio 88.7FM
At a time when artists are finding themselves increasingly isolated, musicians Tom Wilson and iskwē | ᐃᐢᑫᐧᐤ come together to create something truly beautiful.
In March 2020 Tom Wilson (Blackie & the Rodeo Kings, Lee Harvey Osmond, Junkhouse) asked iskwē (and Ojibway jazz musician, Chuck Copenace) to be a guest performer with him on the Indspire Awards, duetting with him on his song, Blue Moon Drive. The two artists had never performed together but the chemistry and the magic was instantaneous. The artists came together again to record a full band, studio version of the song. It's been a really inspiring project for everyone involved and we're thrilled to share it with you and we hope you love it as much as we do. iskwē | ᐃᐢᑫᐧᐤ is, among many other things, an artist – a creator and communicator of music and of movement, of pictures, poetry and prose. And through it all, she's a teller of stories that have impacted our past and will inform our future.
Tom Wilson is a Canadian music legend, famed storyteller and visual artist. In his memoir, Beautiful Scars, Wilson reveals the impact of discovering his Indigenous heritage after a chance encounter with a stranger caused him to question everything he had always known about his past. Musically, Wilson is best known for his work with Blackie & The Rodeo Kings and Lee Harvey Osmond, the latter receiving a 2020 Juno Award for the album ""Mohawk"".
COVID-19 restrictions will be as per provincial COVID-19 regulations on date of event. By purchasing this ticket, the purchaser acknowledges that their contact information may be shared by the Algonquin Theatre with the Simcoe Muskoka District Health Unit if needed for the purpose of
COVID-19 contact tracing. Save more! Buy tickets to 3 shows and you get 10% off. Purchase to 4 shows and you get 15% off.