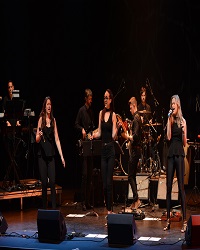 Soul45
When
Occurs on Saturday June 6 2020
Approximate running time: 2 hours
Venue
Event Notes
×
SOUL45
Soul45 is the latest venture from musical partners Greg Sutherland and Jordan Riley. This group features a front-line of three amazing female vocalists backed by a stellar eight-piece band, including a five-piece rhythm section and a three-piece horn section, performing original arrangements of classic and contemporary Soul, Funk and R 'n' B hits.
Formed in the early summer of 2017, the ensemble spent a year in rehearsal before heading out two summers ago for several club and concert performances including appearances at Mill on Main, The Algonquin Theatre and as main stage performers at Band on the Run. This summer, they are adding to their performance schedule with additional club and concert events including this appearance at The Algonquin Theatre.
All the band members are Huntsville area residents and many are alumni from Sutherland and Riley's very successful Song Project group which recently ended it's 11-year run. During that time, the ensemble opened for Jully Black, The Tenors, Colonel Chris Hadfield and Hawksley Workman, and appeared on City TV's Breakfast Television, at The G8 Youth Summit Concert, and at The Huntsville Festival of the Arts. As well, the band headlined their own sold-out performances and played various private functions and corporate events. 
This unit, once again produced by Sutherland, features Taryn Gray, Courtney Morey and Jenny Smith on vocals, Music Director Riley on keyboards, Jack Nickalls and Jack Gaughan on guitar, Benji Jordan on bass, Bevan Wilson on drums, Neil Barlow on trumpet, Joe Alfano on tenor and baritone saxophone, and Jacob Gallagher on trombone.
Tickets for the group's concert at The Algonquin Theatre on Saturday, June 6, 2020 at 7:30 pm are available for $25/person from The Algonquin Theatre Box Office at (705) 789-4975 or online at www.algonquintheatre.ca.