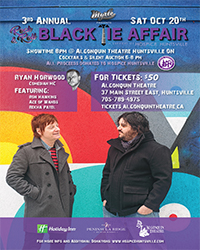 The Third Annual Rock and Roll Black Tie
When
Occurs on Saturday October 20 2018
Approximate running time: 2 hours
Venue
Event Notes
×
The Third Annual Rock and Roll Black Tie
On October 20th, once again join Myrle and Ron Hawkins for the third annual Rock and Roll Black Tie, a fundraiser for Hospice Huntsville. Founded in 2016 by Mike Shaver and Jamie Clarke after the passing of Clarke's father, they recognized the need for private funding to keep hospice funded, so far the event has raised nearly $40,000.
This year the event will once again have the talented singer/songwriter Rekha Patel, comedian Ryan Horwood as well as newcomers to the event singer/songwriter Skye Wallace and Niagra band Undercover. Silent Auction 6-8pm Concert begins at 8pm $50 tickets price with all concert and auction earnings going directly to hospice Private donations can go to Hospice Huntsville www.hospicehuntsville.com 705-789-6878
Ron Hawkins has long been revered as one of Canada's greatest contemporary singer-songwriters.
As lead singer/multi-instrumentalist and main songwriter of Canada's legendary Lowest of the Low, Ron Hawkins has enjoyed many accolades through the years:
In 1996, 2000 and again in 2005, Chart Magazine honoured the group's 1991 debut album, Shakespeare My Butt, with spots in the top 10 of the Top 100 Canadian Albums of All Time. In 2000 and once again in 2015, Hawkins was voted Songwriter of the Year by NOW Magazine's reader's poll. Also in 2000, Ron received Toronto station 102.1 The Edge's Lifetime Achievement Award. In 2008 The Lowest of the Low was inducted into the Canadian Indie Rock Hall of Fame and awarded gold records for Shakespeare My Butt.
Over the years, Ron has written and released four LOTL albums, five solo discs, three records with his band The Rusty Nails, and two with The Do Good Assassins. Do The Right Now is Ron's 16th album of original material.
With an equally emotional and electrifying style of rock and roll Jamie Clarke, is joined by band members Brandon Munday, Mike Burke, Brian Hawley and Claude Silveira. Based near Toronto, Ontario, Myrle's music has been favourably compared to the legendary Steve Earle and Tom Waits - in addition to being called "Bruce Springsteen with a new set of spark plugs" by the Ottawa Citizen - all while crafting a modern soulful sound that is entirely his own. Having written and performed his music for over 15 years, Jamie's songs are filled with stories of love, loss, hope, and the wisdom that only comes from a man who has seen the deepest intimacies of the world and people around him.
Ace of Wands is the music and songwriting of Lee Rose. Joined by Anna Mernieks and Jody Brumell, the band creates mixture of tones and emotions, blending soaring vocals, violin, synth-bass and guitar into songs inspired by the supernatural, elemental forces and physical sensation. Drawing on a background of rock and roll, classical violin training and folk music, Ace of Wands expands their songwriting to incorporate facets of cinematic soundscapes, pop melodies and interlocking guitars and vocals. Motivated by the tarot card of the same name, the music is about will and determination; to create and destroy, and to bring about physical, mental and spiritual transformation.