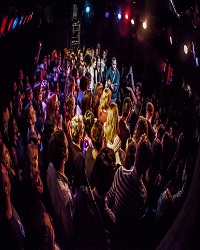 Choir!Choir!Choir!
When
Occurs on Friday July 13 2018
Approximate running time: 2 hours
Venue
Performance Notes
×
*Please Note This Performance will be held at Deerhurst Resort*
Tickets for this show are not available through the Algonquin Theatre box office. You can either click the link on this page or contact the Deerhurst Reservations desk at 1-800-461-4393 (online purchase will be quicker and easier) Choir!Choir!Choir!
Friday, July 13, 2018
Daveed Goldman and Nobu Adilman (AKA "DaBu") started Choir! Choir! Choir! as a weekly drop-in singing event in February 2011. Equal parts singing, comedy, and community-building, the night unfolds like a dream: you get a lyric sheet at the door, and become part of Choir!Choir!Choir!. Instruction and rehearsal follow until the finale, where the song is performed and recorded (and posted!) Described as moving, inspirational and passionate, it develops community at it's finest and people go home happy!
Tickets $30/person ages 17+, $20/person ages 16 & under
Not recommended for children under 12 years of age. https://skylinedeerhurstresortinc.thundertix.com/orders/new?performance_id=2051417