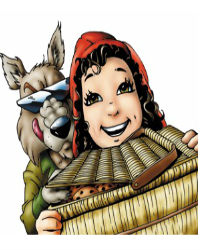 Red's in the Hood
When
Runs from Wednesday May 16 2018 to Wednesday May 16 2018
Approximate running time: 2 hours
Venue
Performance Notes
×
Join Little Red as she is sent with a basket of cookies to see her Granny,a motorcycle-riding go-go dancing hip-hopping senior, when she veers off the path and is chased by B. B. Wolf, a cookie-loving rap star! Red's In The Hood is a wacky musical twist on the traditional "Little Red Riding Hood" fairy tale.
Red's in the Hood is a wacky musical adaptation of Little Red Riding Hood featuring a cast of 12, wonderful sets and costumes and great sing along songs. Each participating class also received corresponding CDs and teacher resources to bring the field trip right back into the classroom. Appropriate for ages 4-8.
Here is what a few teachers said about this year's Education Arts Canada production, PigMania… "The experience was educational and engaging for our students. It is often difficult to find an arts experience for children that are at the Kindergarten age group and we feel that this experience is the perfect balance for our young learners! Thank you" Buttonville PS .
Performances 10:30 AM & 1:00 PM
To book your group, please call Gabriella at 1-877-697-6647 ext. 104