The Game of Love Saturday, December 2, 2023 at 7:30 PM EST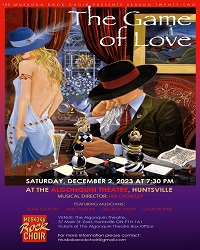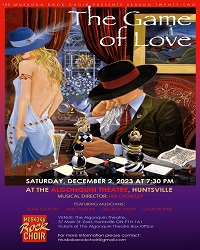 You've selected
Saturday, December 2, 2023 at 7:30 PM EST
×
Muskoka Rock Choir Season 22 presents The Game of Love
Join us for an entertaining evening where we sing your favourite songs by:
Coldplay, The Doobie Brothers, Post Malone, Billy Idol, Mumford and Sons, Hozier, Leonard Cohen, Our Lady Peace
and, of course
Santana
and many more.
It is an evening of music and musings on love and the games that we play to survive it.
There will be special performances by musicians
Michael Phillips and Sean Cotton
and we also welcome musicians
George Axon and Jeff Martin.
Launch your holiday season with this joyous musical choral event,
"The Game of Love"
ALL SALES ARE FINAL.
Tickets will not be taken back for exchange or refund. Before purchasing tickets, carefully review your event and seat selection. Policies set forth by our clients, including venues and artists, generally prohibit the Algonquin Theatre from issuing exchanges or refunds after a ticket has been purchased or for lost, stolen, missed shows, and damaged or destroyed tickets. In addition, we may occasionally offer tickets at a discount after the original on sale date and will not refund the difference between the original price and the sale price. Tickets will not be refunded for any reason including missed shows or inclement weather.
Venue
Algonquin Theatre
37 Main Street East
Huntsville ON P1H 1H1