You Hurt My Feelings Monday, December 4, 2023 at 7:00 PM EST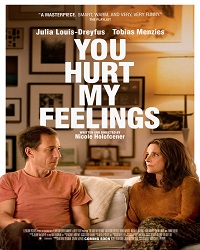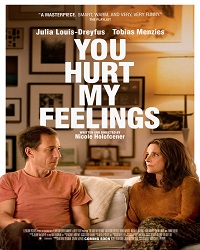 You've selected
Monday, December 4, 2023 at 7:00 PM EST
×
December 4, 2023 - You Hurt My Feelings
Presented by Reel Alternatives in partnership with the Algonquin Theatre
A novelist's longstanding marriage is suddenly upended when she overhears her husband giving his honest reaction to her latest book. Starring the brilliant, and often very funny, Julia Louis-Dreyfus the films deals with the depths of relationships and how seemingly strong foundations can be partly or fully fractured for the simplest of reasons.
Writer-professor Beth (Julia Louis-Dreyfus) and her husband Don (Tobias Menzies), a therapist, are as copacetic as can be even after decades of marriage -- still passionate, still sharing a single ice cream cone (to the disgust of their son), and still supporting each other professionally. Beth has a reasonably well-received memoir under her belt as well as a teaching gig at the New School, but is struggling to get her first novel published. Don, despite feeling his age and mixing up his patients' issues in sessions, has supported and praised Beth's latest work, draft after draft.
But one day, the unimaginable happens when Beth overhears a conversation in which he confides that he just doesn't think her new project is very good. You Hurt My Feelings is a story about moderately happy people who are pretty good at holding everything together until they come face to face with the truth. Holofcener nimbly explores the limits of honesty and whether the piety of positivity is really all it's cracked up to be. Holofceners's work in this subtle, thematic film is deceptively masterful, darkly comedic, and oh so familiar.
USA, 2023
Director: Nicole Holofcener
Principal Cast: Julia Louis-Dreyfus, Tobias Menzies, Michaela Watkins
Language: English
93 minutes
Please redeem completed Reel Appreciation Card on show night at the box office between 6-6:45pm.
Reel Alternatives Huntsville is a not-for-profit organization, committed to presenting quality Canadian and international film to enrich the cultural experience of the community.
Reel Alternatives Huntsville gratefully acknowledges our partnership with Film Circuit, presented by TIFF, and its sponsors and supporters. For more information about Film Circuit and to view a full list of their sponsors and supporters, please visit tiff.net/filmcircuit.
ALL SALES ARE FINAL.
Tickets will not be taken back for exchange or refund. Before purchasing tickets, carefully review your event and seat selection. Policies set forth by our clients, including venues and artists, generally prohibit the Algonquin Theatre from issuing exchanges or refunds after a ticket has been purchased or for lost, stolen, missed shows, and damaged or destroyed tickets. In addition, we may occasionally offer tickets at a discount after the original on sale date and will not refund the difference between the original price and the sale price.
Venue
Algonquin Theatre
37 Main Street East
Huntsville ON P1H 1A1
×
This is a festival seating performance - the seats are on a first come, first serve basis when you arrive at the theatre.
Doors open 1/2 hour prior to start of performance.