Bones of Crows Monday, October 2, 2023 at 7:00 PM EDT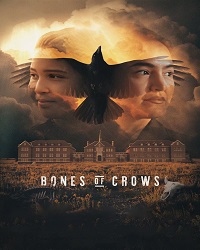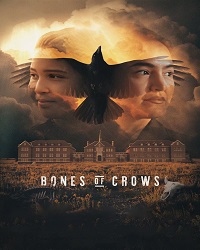 You've selected
Monday, October 2, 2023 at 7:00 PM EDT
×
October 2, 2023 - Bones of Crows
Presented by Reel Alternatives in partnership with the Algonquin Theatre
Sponsored by The Great Vine
The screening of this important film is timed to as closely as possible with, and to honour, the National Day of Truth and Reconciliation and Orange Shirt Day which both take place on September 30th to commemorate the painful history and ongoing impact of residential schools on indigenous people in Canada.
Unfolding over 100 years, BONES OF CROWS is a feature film told through the eyes of Cree Matriarch Aline Spears as she survives a childhood in Canada's residential school system to continue her family's generational fight in the face of systemic starvation, racism, and sexual abuse.
Marie Clements' historical epic about the life of Cree matriarch Aline Spears is a powerful indictment of the abuse of Indigenous peoples and a stirring story of extraordinary resilience and resistance. Born in the 1920s into a large, happy family, Aline Spears (played at different ages by Summer Testawich, Grace Dove, and Carla Rae) and her siblings are forcibly removed from their home — through threats and extortion by church and local authorities — and sent to residential schools, where they are subjected to cruelties at the hands of the priests and nuns in charge.
Haunted by the crimes committed against her and her family, she endures years of anguish before she finally has the chance to confront her abusers. Fearless in its denunciation of centuries of oppression by Canadian governments and institutions, Bones of Crows is also a memorable paean to the determination of residential school survivors — especially those who, like Aline, sought to bring these genocidal crimes to light.
Canada, 2022
Director: Marie Clements
Principal Cast: Grace Dove, Phillip Forest Lewitski, Alyssa Wapanatâhk, Michelle Thrush, Glen Gould, Gail Maurice, Carla Rae, Cara Gee, Rémy Girard, Karine Vanasse, Jonathan Whitesell, Patrick Garrow, Summer Testawich, Sierra McRae, Tanaya Beatty, Joshua Odjick, Alanis Obomsawin
Language: English, Cree, Italian
Runtime: 127 minutes
Distributor: Elevation Pictures
Content advisory: content relating to residential schools; child abuse, sexual and psychological abuse.
This programme contains scenes that may distress some viewers, especially those who have experienced harm, abuse, violence, and/or intergenerational trauma due to colonial practices. Support is available 24 hours a day for anyone affected by their experience at residential content dealing with residential schools, child abuse, emotional trauma, and racism. The national Indian Residential Schools Crisis Line is available at 1-866-925-4419.
Please redeem completed Reel Appreciation Card on show night at the box office between 6-6:45pm.
Reel Alternatives Huntsville is a not-for-profit organization, committed to presenting quality Canadian and international film to enrich the cultural experience of the community.
Reel Alternatives Huntsville gratefully acknowledges our partnership with Film Circuit, presented by TIFF, and its sponsors and supporters. For more information about Film Circuit and to view a full list of their sponsors and supporters, please visit tiff.net/filmcircuit.
ALL SALES ARE FINAL.
Tickets will not be taken back for exchange or refund. Before purchasing tickets, carefully review your event and seat selection. Policies set forth by our clients, including venues and artists, generally prohibit the Algonquin Theatre from issuing exchanges or refunds after a ticket has been purchased or for lost, stolen, missed shows, and damaged or destroyed tickets. In addition, we may occasionally offer tickets at a discount after the original on sale date and will not refund the difference between the original price and the sale price.
Venue
Algonquin Theatre
37 Main Street East
Huntsville ON P1H 1A1
×
This is a festival seating performance - the seats are on a first come, first serve basis when you arrive at the theatre.
Doors open 1/2 hour prior to start of performance.