Stand Up Comedy: Andrew Packer & Marc Anthony Sinagoga Saturday, December 16, 2023 at 8:00 PM EST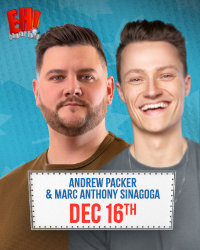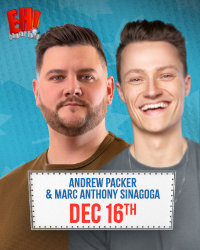 You've selected
Saturday, December 16, 2023 at 8:00 PM EST
×
PRESENTED BY EH! COMEDY TOUR
This is the show for you if you're looking for a night of laughter and to see our country's best talent during the breakout year of their careers!
Andrew Packer
is a Canadian stand up comedian known for his observational humor & quick-witted crowd work. Andrew has toured in over 15 countries and amassed over 4M followers across TikTok, Instagram and Youtube. He has performed at JFL Toronto, JFL Vancouver and the world famous Edinburgh International Fringe Festival. Andrew was a finalist in the 40th Annual Seattle International Comedy Competition and winner of "Best Overall Performance" at the Cleveland Comedy Festival. You may recognize Andrew as the Lead Anchor/Creator of MAN NEWS (@andpacker), a satirical news network that has over half a billion views worldwide.
Marc-Anthony Sinagoga
(@notmarcanthony) is also a nationally touring headliner in Canada, you may recognize him from his Doug Ford impression or his numerous viral videos playing his 'Nonno', and many other hilarious characters.
+Special Guest Act
ALL SALES ARE FINAL.
Tickets will not be taken back for exchange or refund. Before purchasing tickets, carefully review your event and seat selection. Policies set forth by our clients, including venues and artists, generally prohibit the Algonquin Theatre from issuing exchanges or refunds after a ticket has been purchased or for lost, stolen, damaged or destroyed tickets. In addition, we may occasionally offer tickets at a discount after the original on sale date and will not refund the difference between the original price and the sale price. Refunds will not be issued for any missed shows including inclement weather.
Venue
Algonquin Theatre
37 Main Street East
Huntsville ON P1H 1H1