Spin Friday, October 20, 2023 at 7:30 PM EDT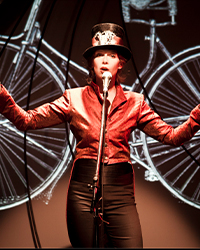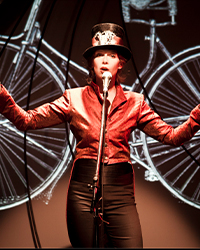 You've selected
Friday, October 20, 2023 at 7:30 PM EDT
×
Tickets on sale July 15th at 10am. Advance access for HfA Members starting June 15th. Members purchase online or by calling 705-789-4975.
One part documentary and another part musical activism, Spin is inspired in part by the incredible true tale of Annie Londonderry, the first woman to ride around the world on a bicycle in 1895. Parry spins a fascinating web of stories that travel from 19th-century women's emancipation to 21st-century consumer culture, peeling back layers of history to reveal a surprising and contemporary heart to her theme of liberation.
Check out a promotional video
here
!
ALL SALES ARE FINAL.
Tickets will not be taken back for exchange or refund. Before purchasing tickets, carefully review your event and seat selection and make note of your selection. Policies set forth by our clients, including venues and artists, generally prohibit the Algonquin Theatre from issuing exchanges or refunds after a ticket has been purchased or for lost, stolen, damaged or destroyed tickets. In addition, we may occasionally offer tickets at a discount after the original on sale date and will not refund the difference between the original price and the sale price. Refunds will not be issued for missed shows for any reason including inclement weather. Tickets will not be refunded for any reason including missed shows and inclement weather.
Venue
Algonquin Theatre
37 Main Street East
Huntsville ON P1H 1H1