The Comic Strippers Wednesday, October 25, 2023 at 7:30 PM EDT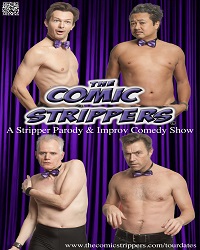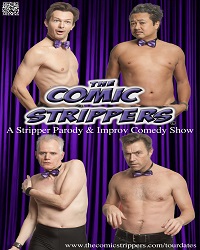 You've selected
Wednesday, October 25, 2023 at 7:30 PM EDT
×
WARNING: No extreme nudity, just extreme hilarity. A show for all genders… 19+ only
The Comic Strippers are a fictitious male stripper troupe, played by a cast of some of Canada's best improvisational comedians. These guys try to be sexy… it just comes out funny. Constantly grooving and gyrating, in between scenes they banter with the crowd and perform their sexylarious twist on improv sketches. They sing, they "dance;" these guys are oiled up and ready to make you laugh. Women often say the most attractive thing about a man is his sense of humour - so ladies, these stripped-down comedians are sure to make your head explode. And not to worry, gentlemen, this is definitely a parody of male strippers. "A show suitable for both men and women… an entertaining ride where anything goes." - Rip It Up Magazine
Semi-undressed and completely unscripted, The Comic Strippers take off their shirts and take on your suggestions to create a whole new genre of comedy.
Fresh from sold out shows in Vegas, Australia and across Canada and Canadian Comedy Award Winners for Best Live Production, The Comic Strippers are:
Roman Danylo
- For five seasons, Roman starred on CTV's Comedy Inc. As a stand-up comedian, he has appeared on Just For Laughs and The Debaters.
Ken Lawson
- Ken starred in the Canadian sitcom Health Nutz and has performed all over North America with The Vancouver Theatre Sports League and The Second City.
Chris Casillan
- An improv comedy vet with The Vancouver Theatre Sports League, Chris is also a Canadian Comedy Award winner with his sketch comedy group Canadian Content.
Michael Teigen
- As well as being a professional improviser and theatre actor, Michael has been in over 30 television shows and over 40 feature films.
Check out a taste of this hilarious show
here
!
ALL SALES ARE FINAL.
Tickets will not be taken back for exchange or refund. Before purchasing tickets, carefully review your event and seat selection and make note of your selection. Policies set forth by our clients, including venues and artists, generally prohibit the Algonquin Theatre from issuing exchanges or refunds after a ticket has been purchased or for lost, stolen, damaged or destroyed tickets. In addition, we may occasionally offer tickets at a discount after the original on sale date and will not refund the difference between the original price and the sale price. Refunds will not be issued for missed shows for any reason including inclement weather.
Venue
Algonquin Theatre
37 Main Street East
Huntsville ON P1H 1H1