Emily Monday, March 13, 2023 at 7:00 PM EDT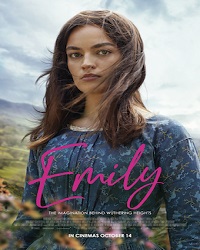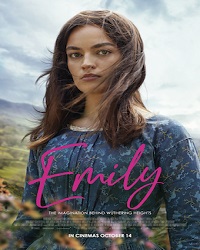 You've selected
Monday, March 13, 2023 at 7:00 PM EDT
×
Monday, March 13, 2023
EMILY
This boldly atmospheric, psychologically incisive portrait of Wuthering Heights author Emily Brontë sweeps us away to 19th-century England for a tale of irrepressible creativity and secret desire. The directorial debut of veteran actor Frances O'Connor, Emily makes haunting drama of a young woman's arduous journey toward realizing her vocation.
The second-youngest of the Brontë siblings, Emily (Emma Mackey) was three years old when she lost her mother, and thereafter haplessly seeks the love of her Anglican-priest father, who, like most everyone around her, looks askance at her overactive imagination and disregard for social niceties. Emily has an ally in her brother, Branwell (Fionn Whitehead), the family's black sheep whose wild behaviour, penchant for intoxicants, and literary ambitions embolden Emily to pursue her passions — some of which lead to artistic discovery, while others lead to romantic catastrophe. Part history, part speculation, writer-director O'Connor's depiction of Brontë's triumphs and tragedies is rapturous, whether finding its heroine joining Branwell on a euphoric opium trip, dancing, rolling, stumbling through the verdant West Yorkshire moors, or slipping perilously into a clandestine love affair with her French tutor (Oliver Jackson-Cohen).
United Kingdom, 2022 Languate: English 130 minutes
Venue
Algonquin Theatre
37 Main Street East
Huntsville ON P1H 1H1
×
This is a festival seating performance - the seats are on a first come, first serve basis when you arrive at the theatre.
Doors open 1/2 hour prior to start of performance.