Eo Monday, February 27, 2023 at 7:00 PM EST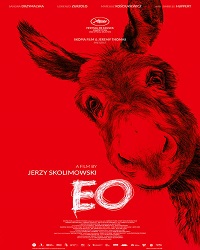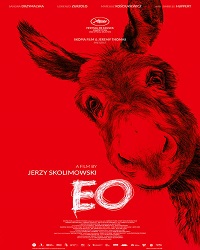 You've selected
Monday, February 27, 2023 at 7:00 PM EST
×
Monday, February 27, 2023
EO
Polish master Jerzy Skolimowski's gripping new drama, which shared the Jury Prize in this year's Cannes competition, follows a sentient donkey as it experiences the best and worst mankind has to offer.
EO is a fable-like journey through contemporary Europe, rooted in its tumultuous past and looking towards its uncertain future. Told through vignettes, the film's anchor is the anthropomorphic eyes of a donkey (played by six different equines named Taco, Ola, Marietta, Ettore, Rocco, and Mela) that senses its way through the wheels of fortune.
These include helpless indenturement inside a mobile circus heading full speed for a glue factory, a fractious adventure with prodigal-son-turned-priest Vito, and a peek inside the so-called good life in the bourgeois home of a bored housewife named The Countess (Isabelle Huppert). To err is human, to forgive divine — and we are only left to guess what Eo — after seeing the best and worst of humanity — would do.
Of all the films released in 2022, we can promise you that there is not a single other film like EO. While most films about animals focus on the relationship between the animal and the people around it, EO instead focuses on the way that its four-legged protagonist views the world. As we journey on an odyssey across Europe, the world, in all its confusing and stressful beauty, is seen through a donkey's eyes. (Forest City Film Festival)
Countries: Poland, Italy, United Kingdom, 2022 Language: Polish, English, French, Italian (English subtitles) 86 minutes
Venue
Algonquin Theatre
37 Main Street East
Huntsville ON P1H 1H1
×
This is a festival seating performance - the seats are on a first come, first serve basis when you arrive at the theatre.
Doors open 1/2 hour prior to start of performance.