Songs in the Key of Cree Saturday, July 9, 2022 at 8:00 PM EDT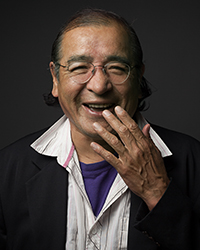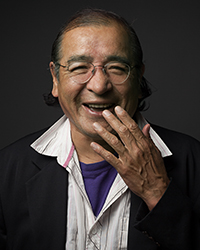 You've selected
Saturday, July 9, 2022 at 8:00 PM EDT
×
Tickets on sale April 28th at 10am.
Advance access for HfA Members starting April 14th. Members purchase by calling 705-789-4975
Sponsored by Canadian Heritage
Huntsville Festival of the Arts is honoured to welcome a living legend of Canadian theatre and music, Tomson Highway. A master pianist, composer and songwriter with a repertoire spanning three decades, Highway's music takes inspiration from a wide range of styles, including country, Brazilian samba, jazz and French Canadian folk songs with influences of Cole Porter and Kurt Weill. In addition to his Order of Canada, the JUNO-nominated performer was named one of the 100 most important people in Canadian history by Maclean's magazine.
Songs in the Key of Cree is a compilation of songs written over the past thirty years by Cree-Canadian playwright/songwriter/pianist Tomson Highway. The songs in the show are taken from five of his musicals over the years, in order: "Rose," "The Incredible Adventures of Mary Jane Mosquito," "The (Post) Mistress," "The Sage, the Dancer, and the Fool" and a new work in progress as yet to be named. What makes the songs unique is their Cree lyrics.Cree is the most spoken Native language in Canada today. "Winnipeg, Manitoba, Saskatoon, Saskatchewan, Chicoutimi, Quebec, Ottawa…" that's all Cree, a very rhythmic language that lends itself very naturally to music and music-making. And the style of the music is "cabaret."
COVID-19 restrictions will be as per provincial COVID-19 regulations on date of event. By purchasing this ticket, the purchaser acknowledges that their contact information may be shared by the Algonquin Theatre with the Simcoe Muskoka District Health Unit if needed for the purpose of COVID-19 contact tracing.
Save more! Buy tickets to 3 shows and you get 10% off. Purchase to 4 shows and you get 15% off.
Venue
Algonquin Theatre
37 Main Street East
Huntsville ON P1H 1H1