Tio Chorinho with Flavia Masciemento Wednesday, June 15, 2022 at 8:00 PM EDT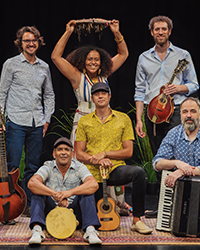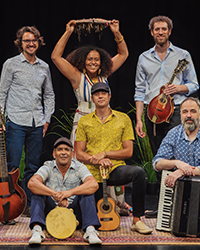 You've selected
Wednesday, June 15, 2022 at 8:00 PM EDT
×
Brazilian Grooves to Get You Dancing!
Registration opens April 28th. HfA Members can reserve preferred seating by calling 705-789-4975
Sponsored by Ontario Presents
Flávia Nascimento joins Tio Chorinho, Canada's first ensemble dedicated to performing Brazilian choro music. Flávia moved from Brazil to Quebec where she now has an active career as an actress and singer. She is a favourite at street parties, popular events, major festivals and in concert halls. Whenever there is a need to make a show burst with excitement, it is time to call Flávia. Best known for her expertise in Northeastern Brazilian styles such as forró and maracatù, this collaboration with Canada's leading choroensembles allows listeners to discover Flávia in a completely different repertoire. Flávia and Tio Chorinho will soon embark upon a full-length collaborative recording. Tio Chorinho has become known for energetic live performances that appeal to audiences of all kinds. Listeners are consistently thrilled by the group's unique repertoire, their virtuosity and dynamics, and by their easy-going charm on stage. The group features Carlinhos Cardozo (cavaquinho), Maninho Costa (percussion), Milos Popovic (accordion), Eric Stein (mandolin), and Andre Valerio (7-string guitar). Choro (pronounced SHOH-roh) is a primarily instrumental style originating in Rio de Janeiro in the late-19th century. Choro is the original Brazilian soul music, combining popular and classical European styles with Afro-Brazilian influences. It is the foundation of many modern Brazilian music styles, and is often described as "the New Orleans jazz of Brazil." Exciting, energetic, soulful, intimate, nostalgic and virtuosic, choro is an infectious popular style whose universal appeal belies its musical complexity. COVID-19 restrictions will be as per provincial COVID-19 regulations on date of event. By purchasing this ticket, the purchaser acknowledges that their contact information may be shared by the Algonquin Theatre with the Simcoe Muskoka District Health Unit if needed for the purpose of COVID-19 contact tracing.
Venue
Canvas Brewing Company
12 John Street
Huntsville ON P1H 1H2
×
This is a festival seating performance - the seats are on a first come, first serve basis when you arrive at the theatre.
Doors open 1/2 hour prior to start of performance.